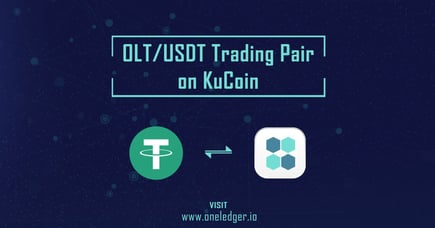 Barbados, Apr 27, 2023. OneLedger, a cutting-edge blockchain technology company, is thrilled to announce that our native cryptocurrency, OLT, will begin trading on KuCoin exchange with the USDT pairing. The trading pair is scheduled to go live at UTC 10:00:00 on May 5th, providing OLT holders with even more opportunities to trade and invest.

By adding the USDT pairing, OLT users on KuCoin will benefit from the stability of USDT, which is pegged to the US dollar. This pairing will allow traders to hedge against the volatility of the cryptocurrency markets and manage their investment risks more effectively.

OneLedger is dedicated to creating innovative blockchain solutions and this new listing on KuCoin represents a significant milestone in our company's growth. We are excited to continue expanding the use cases for our OLT token and providing our community with access to new trading opportunities.

For further updates on OneLedger and the OLT token, please visit our website or follow us on our social media channels.

About OneLedger
OneLedger is a distributed consensus protocol company that has created a blockchain that will act as a bridge between enterprises and other chains. This allows cross-chain transactions and provides a marketplace for building sophisticated business modules.
Website: https://www.oneledger.io/
Email: hello@oneledger.io
Twitter: https://twitter.com/OneLedgerTech
Telegram: https://t.me/oneledger
Github: https://github.com/Oneledger/
LinkedIn: https://www.linkedin.com/company/oneledgertech/
YouTube: https://www.youtube.com/channel/UCqazyMCaD7lH-IBZrb33WPg

About KuCoin
Launched in September 2017, KuCoin is a global cryptocurrency exchange with its operational headquarters in Seychelles. As a user-oriented platform with a focus on inclusiveness and community action reach, it offers over 700 digital assets and currently provides spot trading, margin trading, P2P fiat trading, futures trading, staking, and lending to its 27 million users in 207 countries and regions.

In 2022, KuCoin raised over $150 million in investments through a pre-Series B round, bringing total investments to $170 million with Round A combined, at a total valuation of $10 billion. KuCoin is currently one of the top 5 crypto exchanges according to CoinMarketCap. In 2023, KuCoin is named one of the Best Crypto Exchanges by Forbes, and recognized as a highly commended global exchange in Finder's 2023 Global Cryptocurrency Trading Platform Awards.