Barbados, Dec 02, 2022, OneLedger announced today, that it has joined forces with Group Olvia to shape the future of crypto with a strategic partnership that brings new staking and DEFI opportunities for OLT holders, provides new services to European Security and Defense companies in NATO member countries and increases OneLedger chain usage with several new dApps.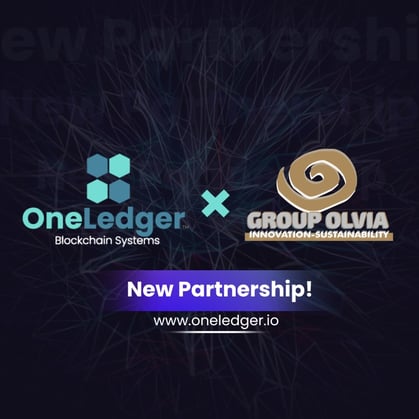 Operating as L2 on OneLedger's L1 chain, Group Olvia via one of its subsidiaries will provide a critical, real-world application in view of the Ukraine invasion and the need for European and Ukrainian NATO rearmament.
The two parties will jointly work to provide real-world solutions to the existing web3 crypto landscape.
The partnership between OneLedger and Group Olvia is perhaps the most important relationship that OneLedger has ever entered into. The object is the expansive Group Olvia companies and partners to exclusively use the OneLedger blockchain to deliver a series of tokens and projects that support real-world enterprises. This has been the mantra of the OneLedger team and promises to be a game-changer in the trajectory of the operation. The teams are aligned, and the work has begun in earnest. This promises to be a fundamental platform development for Web3 deployment, incorporating Industry 5.0 technologies as we continue to evolve the blockchain ecosystem."
George Connolly,
CEO, Oneledger Technology Inc.
Since its inception in 2018, OneLedger Inc. has created a world-class technology; fast, cheap, easy-scalable, and secure Layer-1 chain. As a distributed consensus protocol company, OneLedger together with Group Olvia, will solve the nagging crypto crisis with a special focus on OLT holders, by providing a treasury vault backed by real and liquid assets. This will create a variety of reduced-risk staking opportunities. Detailed information will be announced later.
"This is the first and most important step in our challenge to merge the Real Economy with Web3 and Industry 5.0 technologies. As an organization that has been built on partnerships, we believe that the best way to succeed involves joining forces with like-minded teams that want to be innovative while offering tangible benefits to the Economy.
We look forward to expand OneLedger with our Kratos-X Ecosystem focusing on the Security & Defence Industry and the Polis-X Ecosystem focusing on Local Sustainable Development and Smart Governance"
Panos Thymianides
Managing Director, Group Olvia
To learn more about the partnership, please follow the official OneLedger Twitter account https://twitter.com/OneLedgerTech
About OneLedger
OneLedger is a distributed consensus protocol company that has created a blockchain that will act as a bridge between enterprises and other chains. This allows cross-chain transactions and provides a marketplace for building sophisticated business modules.
Website: https://www.oneledger.io/
Email: hello@oneledger.io
Twitter: https://twitter.com/OneLedgerTech
Telegram: https://t.me/oneledger
Github: https://github.com/Oneledger/
:LinkedIn: https://www.linkedin.com/company/oneledgertech/
YouTube: https://www.youtube.com/channel/UCqazyMCaD7lH-IBZrb33WPg
About Group Olvia
Group Olvia is a new type of partnership and professional cooperative based on its proprietary Ecosystem architecture and business model. It has operations in various countries and focuses on the digital and sustainable transformation of the Economy with cutting-edge business models.
Website: https://groupolvia.eu
email: info@groupolvia.eu
Linkedin: https://www.linkedin.com/company/1260365/
GO Ecosystems: Ecoadventus Manufacturing Ecosystem: https://eco.groupolvia.eu
Geosentient Primary Sector Ecosystem: https://geo.groupolvia.eu
Omikron Financial Ecosystem: https://omikronfin.org
OLVIA Resources Mining and Materials International: https://olvia-rmm.one