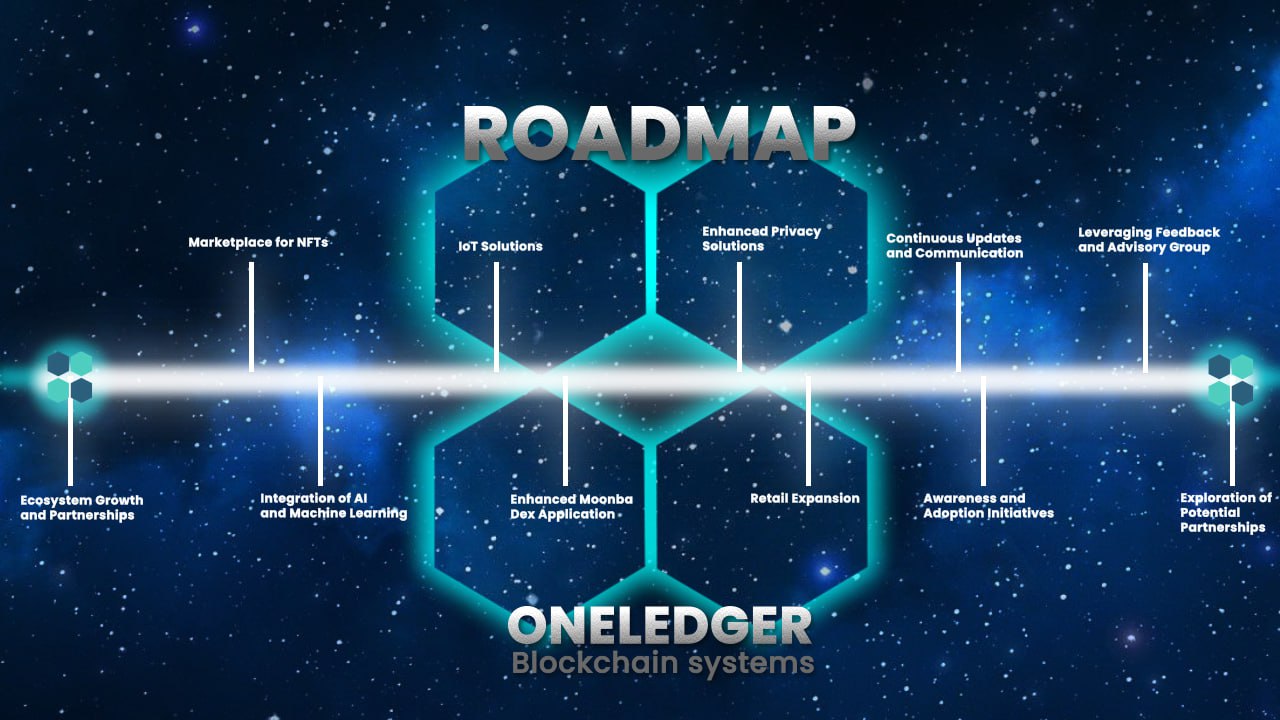 Welcome to the latest update on OneLedger's roadmap! We are excited to share our progress and the upcoming milestones that will further enhance our platform's capabilities. Our mission to bridge the gap between different blockchains and foster interoperability remains at the core of our efforts. Let's dive into the exciting developments that lie ahead.
Done: Launch USDT/OLT pair on KuCoin CEX.
(TBA) New Exchange Listing Finalize the deal and announce details of a new exchange listing.
Ecosystem Growth and Partnerships:
Focus on ecosystem growth by attracting and partnering with subject matter experts and businesses in various fields to expand the OneLedger ecosystem.
Integration of AI and Machine Learning:
Collaborate with partners to integrate AI and machine learning algorithms into the platform to enhance interoperability capabilities and provide predictive analysis for smart contracts.
Marketplace for NFTs:
Develop and launch a marketplace for NFTs using OneLedger's custom tokens that can be traded across different chains, providing a platform for artists and collectors to buy, sell, and trade NFTs.
Enhanced Privacy Solutions:
Work with partners to introduce advanced privacy solutions to the platform, allowing businesses to secure their data and assets on the blockchain while maintaining privacy and confidentiality. Cygnet will move their signature platform to this enhanced ecosystem.
IoT Solutions:
Collaborate with a partner to introduce IoT solutions that enable businesses to securely connect and manage devices on the blockchain, providing a secure and decentralized platform for the Internet of Things.
Enhanced Moonba Dex Application:
Work with Group Olvia to enhance the Moonba Dex application and run transactions across the OLT network.
Retail Expansion:
Strengthen the retail side of the business by adding a larger sales team, with Cygnet moving their signature platform to the enhanced ecosystem.
Continuous Updates and Communication:
Provide regular updates and news as required, including weekly updates, to keep the community and stakeholders informed about the progress and developments of OneLedger.
Awareness and Adoption Initiatives:
Implement initiatives to spread awareness of OLT among the crypto community and enterprises, including multi-lingual channels, influencer collaborations, conferences, and working with marketing partner Token Suite.
Leveraging Feedback and Advisory Group:
Utilize feedback from investors and advisors, including surrogate advisors like JR, to gain perspective and strategic insights for finding the best way forward and accelerating adoption of the OneLedger platform.
Exploration of Potential Partnerships:
Keep a close eye on developments in the cryptocurrency market, including communication with Binance, and explore potential partnerships and collaborations when the timing is favorable.
Note: This roadmap plan covers a one-year timeframe, and additional updates and refinements can be made based on market conditions and evolving industry trends.