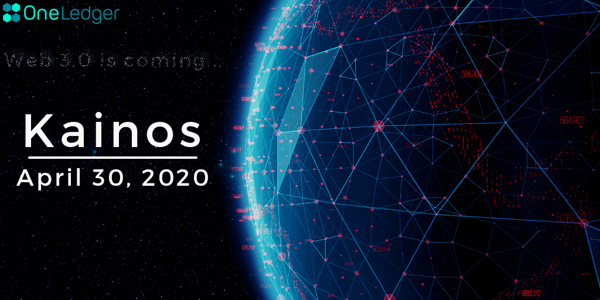 Hello Ledgerians,

Bugs, Develop, Fixes, Updates, Build, Test... These are the only words we've been hearing at the OneLedger office for the
past couple of months. The developers have continuously been in action, trying to shoot down each bug, while still maintaining the high quality of the code. Progress has been significant, and we are now ready to announce a Mainnet launch date.
For those of you who do not know, Kainos is the first part of our two-phased Mainnet launch. Kainos lays down the platform for future releases such as Staking, Governance, Dapps etc. Hence, it is very critical for the team to get things right on the first go—an essential factor here being the network stability and the security of the protocol.
The security audit team, Hacken, handed us a final list of bugs a few days ago, and now our team is fixing the bugs, while simultaneously integrating new features.
Looking at the current situation and after evaluating the auditors final report, and giving the developers some breathing space to test the fixed bugs, we may need a few days in April to finish all the critical steps and procedures before a successful Kainos launch. Hence, the team has made a strategic decision to schedule the Kainos launch for April 30, 2020.
We understand that some members of the community may be disappointed by extending the timeline by a month. Fair enough, but this is overly important for OneLedger as a project and the well-being of the network in the long-run, rather than making a hasty decision to launch a faulty product.
Now let's move onto the most awaited topic, Kainos launch. Now that we have established a date, here are some of the details of the activities/releases which will take place over the next few weeks:
OneWallet Beta 2.0 Launch: a selected group of users will be invited to test the functionality of the OneWallet Beta 2.0, followed by a full OneWallet launch for the public around the Kainos launch date.
Exchange listing: OLT will be listed on a major exchange for global user adoption.
Secret project revealed: Our team has been conducting research on a product which will bridge the gap between Businesses and Consumers. This is a game-changer for OneLedger and allows our consumers to adopt the network further, and continue our march towards mass adoption.
Partnerships/Validator announcements.
Token Migration: this will take place after Kainos launch, to allow users to start utilizing all the functionalities of our network. Instructions will be posted in the coming weeks.
The above list only includes a few announcements. We have many other exciting news as well. Get ready for some eventful months ahead.
Once again, thank you for all your support.