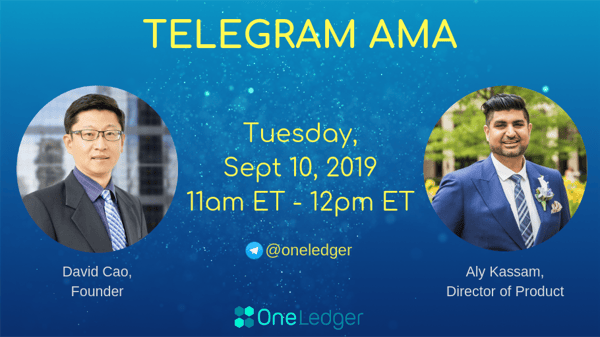 Hey Ledgerians,
The OneLedger team conducted an AMA on September 10, 2019. David Cao, Founder, and Aly Kassam, Director of Product, represented our team.
This AMA was flooded by a ton of questions from the community relating to technology, marketing, and future initiatives. This is by far the busiest AMA we've ever had. Great job in making David and Aly not even get a few seconds of breathing space during the intense 60 minute AMA period.
Thank you to everyone who showed up during this AMA and contributed to learning more about OneLedger.
Here are some questions and answers from the AMA:
1. On Chronos testnet, is JavaScript smart contracts only going to be tested and no other machine language?
Aly: Yes OLVM supports Javascript smart contracts currently. We can try and come up with other languages in future based on the need.
2. The DApps to be developed on the testnet and mainnet, are they going to be only business prelate DApps?
Aly: Dapps can be developed by any developer. We will be releasing the necessary documentation soon.
3. Is Ubuntu 16.04 the only O.S to be used for the testnet. If yes, is the 7.5GB if RAM not too low?
Aly: For testnet, 7.5 GB Ram is good enough.
4. How is the wallet development going along?
Aly: The OneWallet development is ongoing. The next iteration will include HD Wallet support, we will move to support Ethereum and ERC20 shortly after that. Once Lynx Engine is ready for supporting interoperability into BTC, then we will also include Bitcoin.
5. Why we need to wait for staking more than six months after mainnet ?
David : Because there is interoperability, this is the first time someone is performing staking cross-blockchain. There are some challenges with staking that we have to figure out and validate. So we are just making sure that we deliver the best experience.
6. What other companies are you talking to about working

together

with?
Aly: Currently, we cannot discuss exactly which companies. We are facilitating conversations in the Real Estate, Supply Chain and Automotive sectors. There are also technology partnerships we are evaluating to get to market with enterprises quicker.
7. How long before the mainnet?
Aly: Kainos is scheduled for Dec 2019, and Kratos is scheduled for Q2 2020.
8. @akassam any new product services that we can expect to see in the coming years?
Aly: We are working on a Token Migration Utility for ERC20 Tokens and still looking at building an application in the OTC space.
9. Can you confirm the Google Partnership and give us some details on the shape of this partnership?
Aly: With regards to the Google partnership, we are currently partnered with Google Cloud Platform and as a result we are able to be present on their marketplace, the partnership also allows us to utilize accounting and billing services with Google Cloud so that enterprise customers can utilize Google Cloud as their service provider and manage all OneLedger Billing through them.
10. What sets OLT apart from other DLT

blockchains?
Aly: Well for one, OLT is attempting to build interoperability between multiple different types of Blockchains. A lot of competitors will talk about interoperability for Ethereum or Smart Contract based chains, where as we are also going after Bitcoin and using BTC Scripting to build Smart Contract like functionality. In addition, we are moving towards having interoperability as a central piece of our protocol, whereas others try and accommodate it only through Atomic Swaps in Smart Contracts.
11. When everybody can try the OneLedger wallet ?
Aly: We will be opening up the wallet in Q4, but if you would like, message a CM and we can add you to our Beta.
12. Can you tell what is difference between Cosmos and OneLedger from technical point?
Aly: Cosmos provides interoperability between two cosmos based chains currently. It has not promised interopability with chains like Bitcoin. OneLedger provides, in addition to its own chains, interoperability to other big chains that matter. OLVM supports smart contracts in JS, where as Cosmos doesn't provide any smart contract support.

13. Is there any plan for OneLedger team to build an exchange on the OneLedger blockchain?
Aly: Although building a DEX would be optimal on the OneLedger Blockchain, we are not building one. That doesn't stop anyone from utilizing OneLedger tech to do so if they wish.
14. If I will setup a validator node for staking or if i will start staking with my OLT tokens, and if there will be not traffic in blockchain who will give me OLT as a fee ? Does the team have any reserve for this? Some staking projects are paying it from their reserves for first and second and third year.

David : We will be giving Block rewards from our pool for the first few years. This is already mentioned in our Tokenomics paper. In addition, Dapps on our chain can help achieve more Tx's and thus more fees. Our Cross-chain Naming service is one example of that.
15. So after the mainnet and before the staking can we run nodes and collect transaction fees?
Aly: That's correct. Right now we are on the verge of completing the Fees component for the Protocol, so that during Kainos, Validators will earn OLT as fees. That's why we will be migrating our Token in that time period as well, to bring utility to the Token quicker.
16. So we can run nodes without having tokens?
Aly: We have a few options we are exploring for this. The 3M Tokens will still be required to be a validator, the way we will do it will be outside of Staking for the time being. We will provide more info closer to Kainos Launch.
17. Does the the project have enough funds to last the next couple of years and is OLT earning income right now?
Aly: We've answered this a few times. Yes definitely the project has funds for a few years, but we are pursuing revenue opportunities.
David : The fund is enough to build the network, for enterprise market, we are working on few industry with partners, few of them are on final phase to generate revenue.