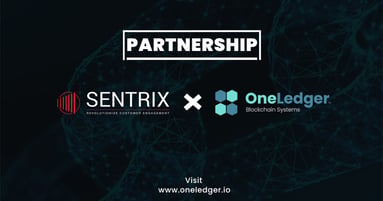 Barbados, Sept 7, 2023. In a groundbreaking collaboration, OneLedger Technology Inc. and Sentrix are joining forces to fortify the security of blockchain technology for enterprises and government entities. As blockchain continues to reshape industries, ensuring robust security is paramount. To address this crucial need, Sentrix's CEO, Akbar Ahmed, emphasizes the significance of their product BlockChainSentry, stating:
"Security is critical to the adoption of blockchain technology in enterprise and government environments. BlockChainSentry helps organizations find, identify and fix vulnerabilities at all stages of the smart contract lifecycle: from development to deployment to production"
Sentrix is a leading innovator in blockchain security and customer engagement solutions. Their flagship product, BlockChainSentry, stands as the world's most advanced security scanner for smart contracts on the blockchain. BlockChainSentry empowers enterprises and government entities to identify and rectify vulnerabilities in smart contracts, safeguarding applications in sectors such as environmental management, supply chain, finance, and more.
Sentrix's second offering, Adventures, is a visionary customer engagement platform that leverages artificial intelligence (AI) to incentivize customers to participate in personalized and adaptive experiences. These experiences are not only enjoyable for customers but also create tangible value for brands.
OneLedger's partnership with Sentrix. signifies a significant step forward in blockchain technology's evolution. By combining Sentrix's expertise in security and customer engagement with OneLedger's blockchain solutions, both companies are poised to drive innovation and security in the blockchain space to new heights.
George Connoly, CEO of Oneledger comments:
"I am excited to share the vision behind this collaboration. We understand that as blockchain continues to reshape industries, ensuring paramount security is non-negotiable. This partnership is a proactive step toward safeguarding the integrity of blockchain systems, thereby fostering greater trust among businesses, government bodies, and individuals alike
Sentrix, with its distinguished track record in cybersecurity, brings a wealth of knowledge and resources to fortify blockchain security. Together, we aim to address the evolving challenges and threats that the blockchain ecosystem faces. By leveraging Sentrix's expertise and our deep understanding of blockchain technology, we are confident that this collaboration will set new standards for security in the industry."
Furthermore, using Sentrix technology, building decentralized applications (dApps) on the OneLedger platform will be both safer and more straightforward. This integration ensures that developers can create dApps with enhanced security features, reducing the risk of vulnerabilities in their smart contracts.
Both companies' efforts will focus on:
Enhanced Security Protocols: Developing cutting-edge security protocols to safeguard against emerging threats in the blockchain space.
Smart Contract Security: Ensuring the integrity and reliability of smart contracts, a cornerstone of blockchain technology.
Threat Intelligence: Continuous monitoring and analysis of cybersecurity threats to proactively identify vulnerabilities and mitigate risks.
Education and Awareness: Educating enterprises and government entities on best practices for blockchain security.
This collaboration reflects the shared vision of both companies to revolutionize the way enterprises and government entities harness the potential of blockchain technology.
Together, OneLedger and Sentrix will empower organizations to embrace blockchain with confidence, knowing that their digital assets and transactions are protected by state-of-the-art security measures.
We look forward to the groundbreaking solutions that will emerge from this partnership!


About OneLedger Technology Inc.
OneLedger Technology Inc. is a distributed consensus protocol company that has created a blockchain that will act as a bridge between enterprises and other chains. This allows cross-chain transactions and provides a marketplace for building sophisticated business modules.

Website: https://www.oneledger.io/
Email: hello@oneledger.io
Twitter: https://twitter.com/OneLedgerTech
Telegram: https://t.me/oneledger
Github: https://github.com/Oneledger/
LinkedIn: https://www.linkedin.com/company/oneledgertech/
YouTube: https://www.youtube.com/channel/UCqazyMCaD7lH-IBZrb33WPg


About Sentrix
Sentrix's BlockChainSentry solution is the world's most advanced security scanner for smart contracts that run on the blockchain. Using BlockChainSentry, enterprises and governments can find, identify, and fix vulnerabilities in the smart contracts that power environmental, supply chain, financial, and other applications.
Sentrix's Adventures solution is a customer engagement platform that leverages AI to incentivize customers to participate in personalized and adaptive experiences that are fun for customers while creating tangible value for the brand.
Website: https://blockchainsentry.com
LinkedIn: https://www.linkedin.com/company/blockchainsentry
Website: https://sentrixlabs.com
Email: hello@sentrixlabs.com
Twitter: https://twitter.com/sentrixlabs
LinkedIn: https://www.linkedin.com/company/sentrixlabs