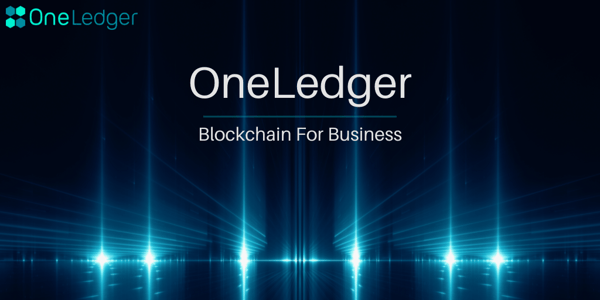 Hello Ledgerians,
Many of you may have a question: What is OneLedger?
Let's summarize, OneLedger is a Blockchain for Business. OneLedger offers a unique protocol that enables cross-ledger
access through business modularization. We aim to create a platform where both the businesses and individuals can utilize OneLedger's unique capabilities to adopt blockchain technology and integrate it into their existing ecosystem.
Problems faced by the blockchain industry
As many of you may be aware, it is hard to transfer assets at present, from one blockchain to another without a centralized exchange. This limitation, in turn, limits the adoption and widespread use of blockchain technology.
Solution
Through OneLedger, individuals and businesses can transfer assets from one public blockchain to another with ease through our unique offerings mentioned in the blog below. We aim to not only simplify asset transfers across public blockchains but also create a mechanism to make asset transfers seamless across private networks (for traditional companies).
Our Offerings
- OneWallet
We will launch a Beta 2.0 version of the OneWallet on April 2, 2020. The primary focus of our product team has been to create a seamless user experience for everyone. Through OneWallet, users will have the ability to buy and sell domains on the OneLedger network (the functionality will be live in the Beta 2.0 version and more info regarding the fee structure/subscriptions will be released in the coming days). Businesses will be able to utilize the full functionality of the OneLedger Naming Service (ONS) by creating business pages within the wallet and accepting payments in crypto form, as we pursue our mission of global user adoption.
Another critical feature within the wallet is its ability to facilitate interoperable transactions using our protocol. Over time, our wallet will enable multiple cryptocurrencies and private tokens to be cross-exchanged.
- Kainos
Kainos is the first phase of our two-phased Mainnet launch. Kainos lays down the path for interoperability between assets. Interoperability, in a layman's term, means the tendency for multiple blockchain networks to share and access information on their networks without the need for intermediaries. After the launch of Kainos, developers will be able to build and explore a wide range of Dapps. A decentralized exchange wouldn't be out of the cards since our platform offers features like interoperability, SDK's, Transaction Fees Management and multi-signature.
In the future versions, once more features are integrated, interested blockchain companies can migrate their entire ecosystem onto the OneLedger network.
- Kratos
Kratos is the second phase of our Mainnet. Kratos gives extra flexibility to our modular network and establishes more power in the hands of our global community by integrating features like Staking and Governance. After the launch of Kratos, users will be able to stake their tokens and earn rewards. Who said "hodling" wasn't a good option after all.
More information on Tokenomics can be found here.
Our Future Plans
Many of you might be wondering, What next? What happens after you successfully launch the mainnet? These are some of the questions we would like to address in this article.
After launching Kainos on April 30, 2020, followed by OneWallet Public Release and Token Migration, on May 11, 2020, our platform will turn into a utility platform with its native currency, OLT. This change of network utility will serve as an important milestone in the life-cycle of OneLedger as a blockchain company. Enabling OLT as a network utility token opens up many doors for OneLedger in the traditional as well as crypto ecosystems.
Target Markets
For starters, we can onboard traditional businesses to start utilizing the functionalities of our wallet and accept payments in multiple cryptocurrencies via OneLedger's interoperability functionalities. Secondly, we will allow companies willing to adopt blockchain technology to use our protocol to connect to other private/public networks by providing blockchain services. Third, and a significant vision is to create a powerhouse infrastructure, where the global community can participate through governance to establish an evolutionary and innovative platform.
Our outreach
As Lao Tzu once said, "The journey of a thousand miles begins with one step." Our first step would be to familiarize the global community with our platform. This movement will primarily begin by focussing on increasing wallet adoption through our social networks. Our mission is to get this wallet in the hands of as many people as possible via activities and contests on social media platforms in the coming months.
Post a successful public wallet release on May 11, 2020; we will be taking our product to businesses, for them to be a part of the OneLedger ecosystem and start accepting crypto payments via OneWallet. Another important aspect is to leverage the outreach of our partners and social influencers to create buzz for our products and possible collaborations into their respective products.
We are firm believers that people learn best when it's presented in visual form. Therefore, our next target is host developer webinars and promotional activities (locally and globally).
Starting in September, once the college/university begins in Toronto, our team will organize sessions to educate and recruit new developers to build on our platform.
OneLedger has been in operations for around two years now. Through these years, our team has considerably increased in size, and we have found the tenacity to tackle every problem. None of this would have happened without the support of our core community.
We would like to thank our entire community for the constant support and faith in the OneLedger project. Let us look forward to years of building blockchain technology together.
Enterprises looking to implement blockchain solutions can contact us through our website. We are happy to help!