This 'Shyft' is sure to shake things up!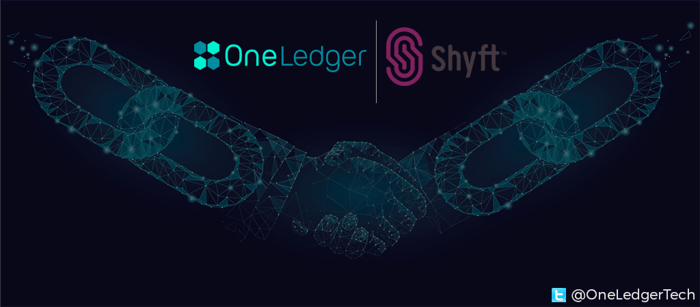 Now here's an announcement for the books that's been buzzing. There's a new couple on the block! OneLedger & Shyft Network have joined forces & there's tremendous excitement & huge expectations for this budding partnership.
On one 'hash' you have OneLedger, the blockchain of all blockchains bringing true interoperability to the table linking with Shyft Network, the decentralized network of networks which enables anyone to develop applications and infrastructure for global citizenship.

So what does this partnership mean?

Aly Kassam, the Director of Product at OneLedger said, "Integrating with a Blockchain like Shyft Networks will help OneLedger with Identity management use cases. By leveraging OneLedger's interoperability offering to access Shyft Networks' attestations we will be able to provide businesses with identity verification within their private Blockchain systems. These use cases are prominent for the Health Care and Financial Services industries."
It's a perfect match! Suzanne Ennis, the Senior Vice President at Shyft Network said, "At Shyft we strongly believe you are only as strong as the strength as of your networks, for the crypto ecosystem and wider blockchain to truly proliferate and be the way of the future, there needs to be cooperation amongst all of us. We are incredibly proud to be working with another world class team like OneLedger for the betterment of our ecosystem."
"OneLedger's growth continues to wow many and I believe that this new partnership with Shyft will be mutually beneficial to each company. The team at OneLedger is definitely excited to embark on this new journey & I'd officially like to welcome the Shyft team on board." Said OneLedger's President, Mr. Kerry Husbands.

---
For our new readers, here's a little about OneLedger & Shyft Network.
About OneLedger:
OneLedger is a cross-chain application platform designed to allow developers to extend blockchain technology.
It would make building your blockchain applications easier than before through OneLedger modularization tools, which will communicate with the OneLedger protocol using its API gateway. This mechanism will make your business applications interact with different public and private blockchains synchronously through corresponding side-chains implemented in the OneLedger platform.
About Shyft:
Shyft is a blockchain-powered network designed to aggregate all existing protocols, with the ultimate goal of acting as a universal layer to join disparate ecosystems.
Ultimately, Shyft has the power to bridge legacy and future technologies to scale online interactions based on immutable, verifiable trust.