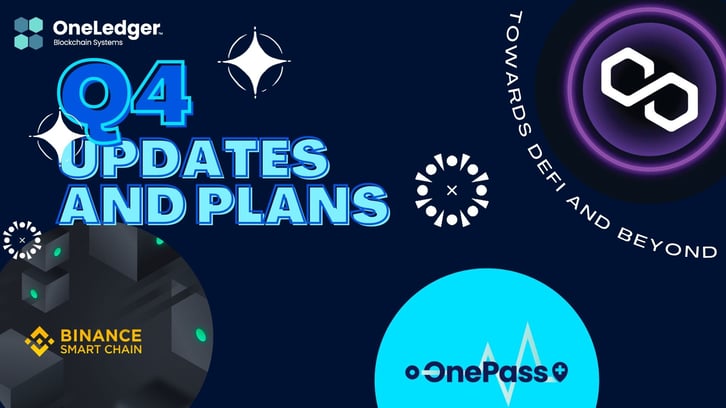 The latest phase of OneLedger's development involves a deep focus on new DeFi offerings. With that objective in mind, the team has been developing several new features to support the growing ecosystem. This includes two recent additions - the OneLedger Virtual Machine (OLVM) and the Syndicated Bridge.
OLVM is the smart contract engine for the OneLedger platform. With the OLVM application we can deploy dApps from any smart contracts built on or for the Ethereum network.
The Syndicated Bridge allows transferring ERC-20 tokens to another EVM-based network. This enables OneLedger to perform cross-chain transfers between different protocols.
At its core, OneLedger will adopt a community-driven approach to creating new technology for the purpose of promoting widespread cryptocurrency and decentralized ledger adoption.
Product Update:
Binance Smart Chain bridge - PancakeSwap integration/OLT listing on BSC network.
OneLedger will launch its Binance Smart Chain Bridge on December 20th at 10 AM EST, which will make Binance Smart Chain compatible with the OneLedger network. This bridge will enable bi-directional asset transfers between BSC and all linked networks.
Matic Bridge -QuickSwap integration/OLT listing on Polygon network.
OneLedger will launch its Matic (Polygon) Bridge on Dec 28th at 10 AM EST. Polygon provides interoperability between multiple chains allowing them to communicate with each other while interacting with Ethereum. Thus, it creates a monumental ecosystem of various blockchain in which users benefit from high throughput and low transaction fees.
Low transaction fees

Extremely fast transactions per second

Can scale and offers staking rewards

Great for decentralized finance apps
Marketing Update:
We have added two new members to our marketing team - Shunning; who will support Marketing Communication and Business Development.
Our intent here is to aggressively pursue partnerships with complimentary projects and developers while continuing to build our own products for the exchange of digital assets.
Tony; a copywriter who will support our messaging efforts across all platforms. He will set the standards by which we communicate and update all our comms channels.
OnePass+ update:
The on the ground management of the pandemic has been one of the most controversial and politically sensitive discussions of our time. To this end we have not seen the kind of traction we anticipated from the OnePass+.
What we have done however is to develop some key functionality that we intend to use as a platform for greater activity.
We have built a highly secure identification application that is related to the OnePass+ and has a myriad of use cases.

We have successfully stored and shared sensitive health care information that has wide utility across many healthcare-related industries.
CBDC update:
OneLedger's messaging over the last 18 months has emphasized that CBDC's are the future of banking. The global market is 81 Trillion USD and we mean to be relevant in that space. Our thinking and action on this is now more urgent than ever.
The debate over digital money has been going on for a while, with the pandemic bringing a greater range of complications via the increased dependence on digital means of shopping and banking since it started. PYMNTS reports that a recent Bank for International Settlements (BIS) report says that digital currencies wouldn't need to replace traditional paper money and coins, but rather could work alongside them as an alternative. The report, according to PYMNTS, found that CBDCs could help to eventually provide a more "resilient and diverse" domestic payment system, helping to offer new options not possible with cash.
In preparation for this migration - we are forming a strategic partnership with Chainlink, the world's premier decentralized oracle network, to get access to trusted and high-quality pricing feeds. This process should be complete in the next 6-8 weeks.
Real Estate solution
We have built out two active whitelabel real estate applications, One is being used in the United States by a company in South Carolina (this will be upgraded shortly) and the other is still in final production for a Canadian business development firm for the national real estate industry.
The focus for the new application is an escrow based smart contract and NFTs representing the asset. As shown in the diagram below.
Business Sales;
Oneledger is deep in an advanced process of recruiting a sales manager. This role will lead a sales unit with full-time representatives across globe that will focus on the following areas:
The development of dApps on our platform, with new and emerging projects.
The sale of our secure ID blockchain technology across the enterprise landscape
The sale of our applications for the management and security of Electronic Health Records
The secure movement of digital assets using smart contracts and NFTs (Real Estate/ CBDC's etc).