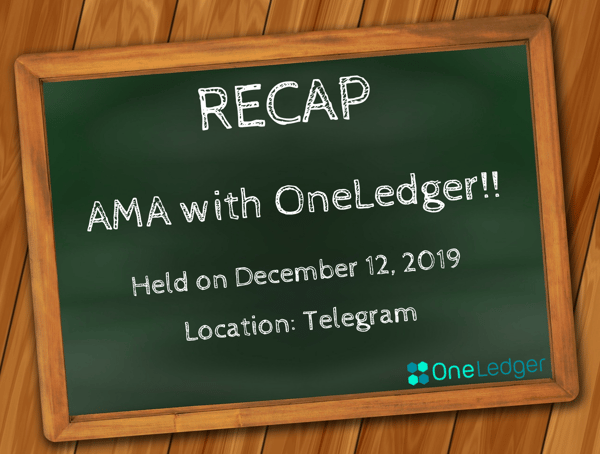 Hey Ledgerians,
The OneLedger team conducted an AMA on December 12, 2019. This AMA was co-hosted by our Founder, David Cao and the Director of Product, Aly Kassam.
The anticipation for this AMA was very high due to the major partnership announcement which our team was going to reveal during the AMA. The community presented a ton of questions to David and Aly, which were gladly welcomed.
We would like to thank everyone who participated during this AMA. As we have mentioned on many previous occasions, it is the strength of this community which takes the project forward, and we are very proud to say that we have an extremely keen and passionate community.
The major partnership we announced was a collaboration with Adastra.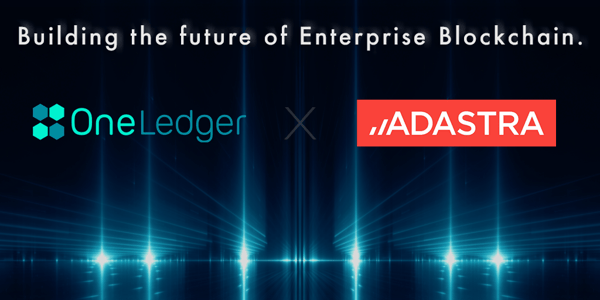 Adastra is a global leader in data management and analytics. The two companies will work together to bring a distributed ledger platform to the North American market to support customers' Digital Transformation needs.
More details: click here
Let's give you a quick recap of the AMA.
1. What is the short term and long term goal of OneLedger project?
David: For short term, we will do our best to execute our roadmap. And for the long term, we will aim to build the best business ecosystem through the OneLedger blockchain.
2. How will you improve your marketing strategy going forward after mainnet launch?
Aly: We are constantly improving the Marketing Strategy, through HubSpot and Google. Currently we have been A/B Testing with Google Ads in several different geographies, and are running our website, blog and email campaign strategies through HubSpot. We will definitely be advertising more post-mainnet, catering ads to both Enterprise and Crypto Communities.
3. How many clients does OLT have, and what % are generating revenue?
David: We are currently conducting POCs for a few different projects, especially in Real Estate and Supply Chain industries. When deals are finalized, we will reveal more details.
4. What is the status of the EdenChain partnership with OLT ?
Aly: With regards to EdenChain, we will cooperate with them after our mainnet launches. It only makes sense to have cross-chain integrations once we have a platform of our own.
5. How can you compete with competitors like Quant that already have a first movers advantage?
Aly: It's been more than half a year since I've looked at Quant so some my understanding may be outdated. That being said, Quant is an Operating System setting on top of Overledger, like Windows or macOS. So Quant is essentially an application. All of the interoperability complexity lies in Quant and not in Overledger. Meaning the application layer interconnects into other networks and not the blockchain itself, that's good because it makes them faster to market and they can onboard more networks faster. However, that means that network finality is still on the originating network and not on Overledger, which poses a problem if you want near real time transactions to happen and you're waiting for Bitcoin or Ethereum's finality. OneLedger's interoperability layer is at the protocol level, making it more complex to build, but allowing for tokens to be frozen on their originating network and regenerated in a OneLedger Account, which optimizes the transaction speed. Rather than waiting for long periods and paying higher transaction fees for Bitcoin or Ethereum, you can transfer your tokens to OneLedger, transact on it at 4000 TPS and then eventually you can reconcile that back to the originating network when you need to.
6. Is OLT Blockchain solving the Data transfer problem solved by LINK and also the multi blockchain interoperability problem solved by QNT - how is the data transferred from non Blockchain applications to OneLedger? What mechanism is used?
Aly: For data transfer from non blockchain applications, we are using the following two approaches
We can have a secure VPN channel open between non blockchain applications and our chain for consistent and reliable data transfer

Our Validators have the capabilities to query for the same source and confirm with consensus about the validity of data, but this will be a bit slow.
We will use one of these approaches based on the need.
7. Explain the utility of OLT, what's the real-life use case and application of OLT?
Aly: We are working on a few different use cases, starting with Domain Management and moving that into eCommerce services centralized around our interoperability functionality. We will release more around this strategy as we move forward with it, but rest assure that we are working towards having this shortly after our Kainos launch.
8. OLT raised 15 million, would you say the team has enough funds for 5 years out?
David: Depending on the market situation, the fund of OneLedger is good enough to run a few years.
9. You have been marketing more lately. Will this trend continue? Your biggest weakness appears to be the lack of social media content.
Aly: Yes definitely, this trend will continue. We are working on creating a more effective social media strategy and you will definitely see more of us during the coming months.
10. Please tell us the 3 most important reasons why someone should invest in OneLedger?
David: We are the first project to complete actual interoperability at the protocol level, across Ethereum and Bitcoin. We are building commerce applications and SDKs to take advantage of the interoperability and simultaneously we are building enterprise solutions in the Supply Chain and Real Estate industries.
11. Will there be seeking to collaborating with other similar projects like OLT, Insolar, or will there be 100% competition between them?
David: We will not be competing with anyone as this is a new industry and we foster growing together rather than competing. We will definitely look forward to any possible collaborations in the future.
12. Why Adastra is so important for OneLedger?
Aly: Adastra is important to us as they have an established clientele, and have built Mobile, AI, and IoT systems for fortune 500 companies. We will be assisting them with blockchain infrastructure for their customer base and be able to onboard more businesses to blockchain. We will have more updates on our partnerships in the near future.
13. From what I can see, OneLedger seems to be a full blockchain solution from start to finish. Ethereum is limited in what it can do and scale as technology advances. Is it good to say that OneLedger is similar to Ethereum but completely scalable and more advanced?
Aly: We have definitely made some gains in various areas, including transaction speed and transaction finality, especially through our interoperability. Once ETH and BTC are added to your OLT accounts, you can operate on them instantaneously.
14. How about improving the marketing effort in crypto community..AMAs in popular trading &crypto news groups, media coverage in top news agencies, and influencer marketing...will the marketing team share the marketing plan with the community?
David: The team is working hard on marketing, we encourage the community to work with us together to make OneLedger become the most famous project in the world. We will be creating more effective social media campaigns and influencer outreach once we move closer towards our mainnet launch, and then towards staking, governance etc. We will be organizing webinars for supply chain companies, and also reaching out to universities to conduct educational sessions for developers.
15. What are you doing to improve the current situation with exchanges (low liquidity) and token price. ICO investors are sitting at a loss.
David: Regarding liquidity on exchanges, we cannot comment on it. But we expect the token to become more utilized once we launch mainnet and start developing on our own network.
16. Will the team develop iOS and Android app for the one wallet. 2. How will the team develop a marketing strategy and adoption strategy after mainnet release? 3. Will the roadmap be updated in the future along with the growth of OneLedger?
Aly:
1. Yes it's on our roadmap
2. The Adoption will require marketing around the wallet, partnerships for applications to integrate with the wallet. We are steadily working on all of these, to ensure OneLedger's success, in addition to Google Search Ads.
3. Yes we actively update the Roadmap.
17. Who are the 10 nodes in testnet? Pchain, Tomo, Quark etc is operating your nodes ?
David: Since we have a lot of changes and updates rolling out constantly, as part of our last sprint to the mainnet, we did not open nodes to our partners yet.
18. Can you pls give sample use cases for below?
1. Enterprise client using OLT Blockchain 2. Enterprise client using OLT to connect to and use Ethereum blockchain.
Aly:
1. Enterprise client using OLT would be anyone using our Blockchain EDI Solution, see https://www.oneledger.io/blockchain-edi . It is also something Adastra will be taking to market as solution with us.
2. For Ethereum Blockchain, Enterprise Clients can use ETH for payment, with instant finality also through interoperability, private Enterprise Ethereum systems can get access through OneLedger, to create interconnectivity between different blockchains that an enterprise hosts.
19. When mainnet launches, will ADASTRA start using OneLedger right away?
Aly: Adastra will be co-operating with us to reach out to enterprises in the private/public sectors. OneLedger's Private Solution is already available for usage and Adastra will immediately start with Private consortium blockchains.
20. What are some big Adastra clients that OLT could work with/leverage?
Aly: These are some of the clients in retail and Pharma https://adastracorp.com/about-us/#our-clients
21. Can we say that 2020 is the year of the OLT?
Aly: Definitely higher focus on Application development and Enterprise customers in 2020.
22. How we can swap our OLT tokens? Kucoin will support token swap?
Aly: Yes we are in conversations with them currently and finalizing the process.
23. Would it make sense to use OLT for interoperable transactions on exchanges? Say, i have token A and i want to sell it to buy token B, now rather than first exchanging it to ETH, BTC or USD i can directly buy token B through OLT's solution?
Aly: Yes it is definitely possible, but it would be a Dapp acting as a DEX on top of our protocol.