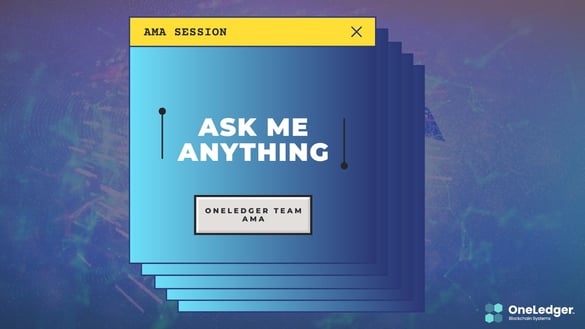 Hello Ledgerians,
First of all, we would like to celebrate the growth and crucial improvements and updates to reach the goals to meet the vision of OneLedger. We are thrilled to share some updates.
Let's start things on a positive note. OneLedger recently has refurbished the Testnet, Frankenstein, a fundamental update to reach a seamless and easy blockchain network. And it empowers our upcoming project - the nexus DeFi, OneSwap.
The OneLedger team wanted to share some updates on the enterprise solution.
1. the real estate, smart contact based solution on Ethereum - ERC20 is under development for a company, who will be raising its ICO.
2. there are 3 serious conversations with enterprises that we are looking into expanding the team to dedicate for each solutions.
3. We are processing a contract with a top 10 crypto project to work toward building customised CBDC solutions for Governments.
4. OnePass is revamped and improved to not only limited to pandemic but any health verification.
Here is a brief recap of the AMA:
About OnePass
W. Buffett of DLT
Hello, from 1-100%, how likely do you really think you can achieve 1 billion dollars in reveneue per year just(!) by the vaccine passport?
George Connolly
The financial model for the vaccine passport is based on the number of times the information is accessed by a Verifier. Consequently, the same passport being used multiple times for port of entry or access to services in a domestic setting makes it a realistic $1B earner.
W. Buffett of DLT
thank you for the explanation, George. Would you still mind sharing a percentage of how likely it is to happen? Does "realistic" mean > 50% chance to you?
George Connolly
$1B is a high figure. I would be very cautious and say - revenue less than 50% chance of 1B in the first year.
Vad Bil
Which countries are ready to accept OLT health passport? And when they will start to do it?
George Connolly
The OLT Health Passport has evolved since our first iteration, so to understand its utility now you cannot think about the original product. OnePass+ will also have a user driven component that allows for the storage of personal health information, other than merely COVID test and vaccines. Thus the product will have use cases beyond the pandemic. Entry at ports and service areas is the first step only. Each country/province has its own requirements but the same WHO basic platform is used for all.
Vad Bil
Will this funds means in OLT tokens or usd? If in usd, than according whitepaper % of income will be used for buy-back and burn tokens. Will u do it? It would help a lot tokenomics and token price
Michelle Kang
It's in USD, once we reach the point of having profit yes, buyback and token burn will be executing.
---------------------
Enterprise solutions
Benillo
Hi, there has been a lot of happened in the last few weeks in terms of product development. Does the team feel that you have managed to sell the concept to government companies today better than what was done at the beginning of the year?
Acquiring customers is difficult when it comes to new technology. but when does the team think we have acquired the first paying customer?
George Connolly
We have learnt a great deal interfacing with clients over the last year. Government has taught us what they need and we have augmented our solution and narrative to meet their requirements. So we are much better at presenting and selling to the Government than at the beginning of the year.
Michelle Kang
We are actually meant to share great news today that for the first time of the company. We are earning revenue from development services - our team is building a real estate smart contract solution for an enterprise at the moment. By agreement, we can't really share which company is yet, since they will be raising a fund for ICO, but we will announce it accordingly when the time comes.
Benillo
Woow! what positive news. Then I have a follow-up question. Will this mean that the ecosystem will affect the Coin?
Michelle Kang
This product is built on ERC20, but we have another contract that there will be a token minted on OLT from an enterprise that we are setting a deal right now.
Benillo
Does the team have any thoughts on hiring more developers for Dapps? or salespeople to acquire more clients?
now that we have finished products to sell to scale up?
Michelle Kang
We have applied and talked with three enterprises besides the real estate and a new token, that when we land, we definitely need a separate team to build and manage it.
This means that we have a serious conversation with 3 enterprises to build blockchain solutions. Once is closed, we need an entire team dedicated to each solution.
---------------------
OneLedger network
PrekrasnoGaming
Hey! Are you going to follow the Polygon path by building a second layer on ETH on your blockchain? If so, how are you going to attract developers and liquidity?
Michelle Kang
No, as the second layer is not finalised on ethereum and requires more tests, we are not pushing forward functionality which works as a side functionality, but not in the internals as a core. In fact, we do not need it as layer 2 represents not scalability right now, but it is specific smart contracts that just give an opportunity to launch the PoS mechanism on the PoW blockchain.
---------------------
OneSwap
KickitOn
How are doing with DEX? Is there a testnet planned or direct launch in September?
Michelle Kang
Dex is building, the new Testnet was needed to have seamless transactions for the nexus ecosystem, we are planning to direct launch in September.
---------------------
Marketing
KickitOn
What are the plans to increase visibility and token price? We need lot of marketing on YouTube as well, any plans?
Michelle Kang
From the marketing perspective, I dont see using influencers to pump the token when there are no fundamental updates and significant topics; it always dumps. I'm looking into growing the token price organically to have more use cases steadily.
---------------------
Our vision
Benillo
What are the future prospects for the next 3 years? what should have been achieved. are there any long-term goals?
Michelle Kang
We obviously have tractions from enterprises and governments that we have the vision to be appeal in the market as blockchain as a service company with an interoperable feature and provide an easy blockchain solution.
---------------------
Frankenstein Testnet
Gio
Hi, i saw recently that we can add olt to metamask, u mean we can add it as a new network? Just like we did in the past to add the bsc and the polygon network?
Will u build a bridge for erc20 tokens from other evm chains to olt chain?
Michelle Kang
Hey its a testnet network, you can add the same way of BSC but its for the test tokens to test dapps :) we are building bridges to enable the functions to connect other chains
---------------------
George Connolly
Hi community before we close, i need to share a big news, we are setting a contract with a top 10 crypto project for a CBDC solution. we will be backed up by a bigger project to have a customised CBDC solution for governments.