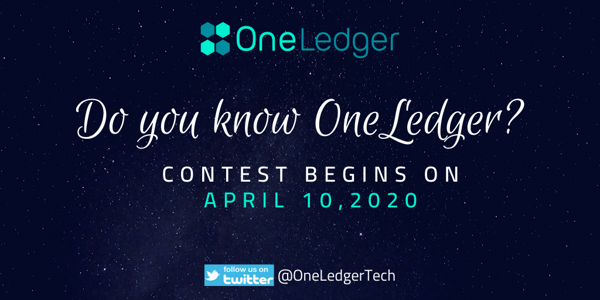 Hello Ledgerians,
Do you think you know OneLedger well enough?
Have you read our whitepaper?
Do you feel lucky?
If so, then we have a perfect contest for you. Starting April 10, 2020, we will be positing a question daily for the next 14 days at 12pm ET. This quiz will be open for 12 hours*.
To participate in the contest and have a chance of being rewarded, all you need to do is follow the steps outlined below*:
1. Follow our Twitter page: https://twitter.com/OneLedgerTech
2. Like, Comment and Retweet (once) with the correct answer within the allotted timeframe
3. Follow the remaining instructions posted on each Tweet
That is all you need to do. We will pick 5 winners* for each quiz from the people who follow the above steps. Winners will be picked through a lucky draw and each winner will receive 1500 OLT. These tokens will be transferred to their OneWallet address on May 19, 2020 after the winner successfully provides their private OneWallet address (OneWallet launches on May 11, 2020).
Winners will be announced daily and the details will be sent to their Twitter inbox within few days after the winner announcement.
Thank you for your support as always and we look forward to your participation.
*subject to change
Terms and Conditions:
OLT can only be rewarded, provided -
1. Participant is not resident or domiciled in the United States, Canada, South Korea, Barbados, the People's Republic of China or other FATF countries like Ethiopia, Iran, Iraq, North Korea, Serbia, Sri Lanka, Syria, Trinidad and Tobago, Tunisia, Vanuatu, Yemen.
2. Participant is not (i) a citizen or resident of a geographic area in which use of cryptographic tokens is prohibited by applicable law, decree, regulation, treaty, or administrative act, (ii) a citizen or resident of, or located in, a geographic area that is subject to U.S. or other applicable sanctions or embargoes, or (iii) an individual, or an individual employed by or associated with an entity, identified on the U.S. Department of Commerce's Denied Persons or Entity List, the U.S. Department of Treasury's Specially Designated Nationals or Blocked Persons Lists, or the U.S. Department of State's Debarred Parties List. If Participant's country of residence or other circumstances change such that the above representations are no longer accurate, you will immediately notify Company.
3. Participant will not use the Tokens in connection with any activity that violates applicable laws in any relevant jurisdiction, including, but not limited to, use of the Tokens in connection with transactions that violate U.S. federal or state securities or commodity laws.