Hello Ledgerians,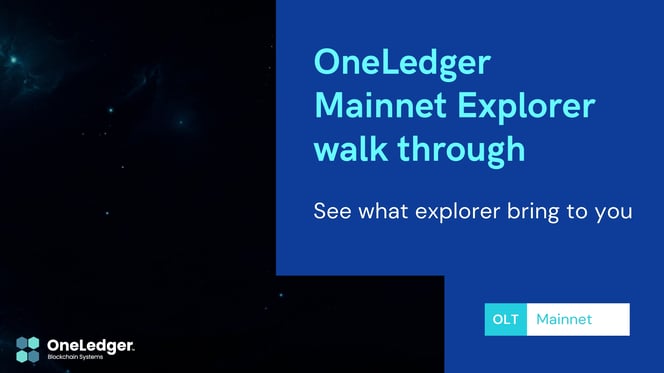 2021 is an essential year for OneLedger. This month, we are the significant steps to achieve our interoperable plan. First, we introduced OVLM this week - where any smart contract and developer can freely integrate with the OneLedger protocol and deploy dApps. We will also launch a bridge in two weeks where you can seamlessly exchange tokens with other chains. Our next launch will be the much-discussed complete OneSwap, where we simplify the movement of digital assets across our bridge. OneSwap is built to increase yields and rewards through smart contract-driven farming and staking options, where the smart contracts do the work and everyone benefits with a higher APY.
To perfect and strengthen the OneLedger protocol as a leader in blockchain technology, we need you to test the platform. Then, as we update our Explorer and Mainnet for greater usability and accessibility, we will use your comments to improve the design, ease of use, and functionality.
: ​https://mainnet-explorer.oneledger.network
Previous version.
The previous explorer was primarily concerned with giving data on the underlying assets of other blockchains kept in the network. As a result, users were unable to examine information connected to the OneLedger chain and information other than the chain's own assets and transactions. The current version of Explorer has been modified to overcome these difficulties and give simple access to a range of network information.
New and improved content.
Oneledger Explorer's most recent upgrades focused on enhancing the user experience and substantially enhanced Explorer's usability. The following are the significant changes:
Dashboard added
Explorer now has a dashboard. You can retrieve all information about the protocol, including speed, blocks, token price, and transaction data.
Blocks: New blocks get mined
Transactions: Here, we can see all the transactions with the hash value, from and to addresses. When we click on the hash, it shows the txns details.
Graphs in the extended Dashboard: This graph section shows up-to-date information about OLT price, total market cap and txns per day.
This section shows:
Block time interval
Up-to-date total transactions and blocks
Total wallet addresses


Blocks: This blocks section shows the new mining blocks.
Transactions: This shows the validated and pending transactions.
Accounts: In this section, we can see top accounts holding OLT coins with marketcap percentage.
Tokens: Here we can see the complete details of new tokens with smart contracts deployed on the OneLedger network.
Mainnet: This helps us to switch explorers between the Testnet and Mainnet of the OneLedger network.
Moon symbol: This symbol helps us to change the UI to dark and light modes.
Future plans.
The new feature update is expected to increase the use case of the OneLedger Protocol, adding momentum to the current Oneledger development. We will continue to strive not only to provide network information and improve growth but also to cover the needs of a distributed ecosystem. Stay updated for our new changes in the future.
​