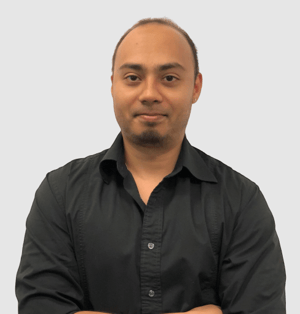 The past few months have been outstanding in terms of our growth in development and accomplishing internal milestones. Our Development team has become stronger. Our team has hired a couple of very experienced developers to lead the pack and accelerate the coding involved.
One of these developers is Kevin Singh. Kevin will be working as a Software Developer at OneLedger. Unlike many software professionals, Kevin has developed a strong background in computer security and signal processing, in addition to routine software skills. As we move closer to the mainnet launch, our team will need to make sure all the code is well-audited, and there aren't any loopholes once we migrate to our native chain. Kevin's expertise in computer security will play a significant role in such circumstances. Kevin has over ten years of experience in the payments, banking and technology industry.

Why OneLedger?
It is exciting to know what is the driving force behind someone's ambition. Having been involved in cryptocurrencies for the past six years, Kevin believes that now is the right time to make a move to the blockchain industry and start applying the theoretical knowledge to practical applications.
"Working at OneLedger as a Software Developer will provide me with an opportunity to learn and grow within the blockchain industry. My main role is to work on the protocol layer and speed up the development process. I am very good at managing my time, and I believe that I can deliver the results needed to excel at this company." - Kevin Singh.

Where is blockchain heading?
People working in the blockchain space now are really on to something. The implementations today will have a massive impact on the generations to come.
Kevin has similar thoughts regarding the future of blockchain technology. "According to me, blockchain will be the front-runner in many industries. Every new technology takes a while to establish itself. After the foundation has been laid out, the disruptions don't stop happening. This foundation stage is where I see blockchain at present. Decentralizing transaction-based records is something that will help remove the monopoly of control by the government and the large corporations. 'Decentralizing' is Step 1. There is a Step 2 missing in blockchain at the moment, and that is interoperability. Communication between blockchains will become a standard in the future, and that's where OneLedger will play a huge role." Said Kevin.

We would like to welcome Kevin Singh to the OneLedger family.