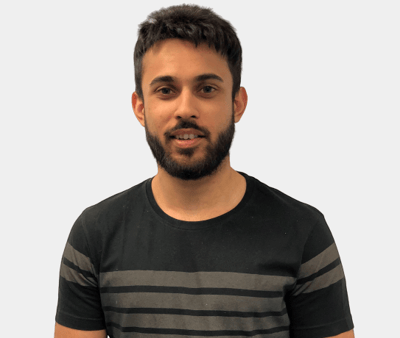 OneLedger adds another blockchain developer to the team. With mainnet launch just around the corner, we have decided to strengthen our protocol team.
Meet Tanmay Bhattacharya, the Senior Software Developer at OneLedger.
Tanmay has been in the tech space for over seven years now. Before joining OneLedger, he worked as a Research Scientist at Conduent. His work here included developing a blockchain platform using the Hyperledger consensus and Haskell as the programming language. This project also involved heavy use of hardware wallets for cryptography and security purposes. He also has prior experience of working as a consultant/developer for companies like Wells Fargo, Altisource Labs and Host Analytics. He has worked as an independent solutions expert for various large and small scale projects, primarily using Ethereum and NodeJS. He brings to the team a holistic view of the blockchain space and an ability to architect and engineer fast, scalable multi-user systems.
So, why did Tanmay join OneLedger? He said, "Presently there are are a lot of companies working in the blockchain space, but what makes OneLedger unique is its idea of interoperability, and its solutions. Soon decentralized systems would be the norm, and base layer protocols to help interact in between them would be in high demand. OneLedger is already trying to solve the problems of the future, in the present. This is what motivated me to join the company and be a part of an inspiring team."
Tanmay has been in the blockchain space since 2016. Being in the industry for over three years now, he understands how blockchain can shape the world and make this world a better place. At present, there are many data leaks taking place in different parts of the globe. According to him, "A decentralized internet would mean that you can share only the information that you feel comfortable with. This form of a technology upgrade can lead to a secure mode of communication."
Thoughts on Interoperability
It is always interesting to find out how the new team members feel about our company mission. An essential aspect of OneLedger's technology is interoperability, meaning how different blockchains connect and interact with each other.
Regarding interoperability, Tanmay mentioned, "Interoperability is the next big thing in the blockchain space. As blockchain-based systems start maturing and going into production, interoperability between them becomes even more critical. Cryptocurrencies aside, imagine a world where every company uses a blockchain layer to keep its data transparent with its customers. Interoperability becomes the most important thing here because you would want the blockchains to interact."
Tanmay's Role at OneLedger
Tanmay will be taking on challenges on the protocol side. As a Senior Software Developer, he is sure to be bombarded with lots of core tasks related to the OneLedger protocol. Tanmay has experience in Ethereum and Hyperledger, which is sure to help us with our interoperability use-cases in the future. Tanmay is also well-versed with Nanoledger devices and asymmetric cryptography, which will surely be helpful down the road.
When asked, what he likes to do in his free time, he added, " I am very passionate about Crossfit. For me, it is important to be in the right state of mind all the time. Other than that, I enjoy cooking and listening to classic rock. I live by the quote, 'One day your entire life will flash in front of your eyes, make sure it is worth watching.'