We were excited to hold this AMA session with our partners from TraceX in our Telegram Chat! Thanks to all participants and our fantastic community for your questions!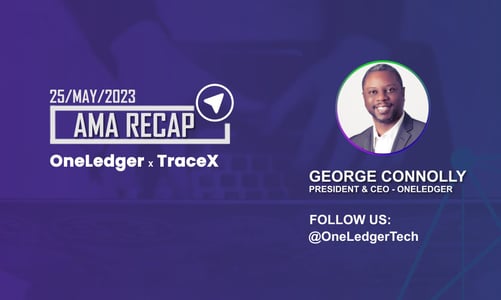 The AMA session was divided into 3 parts:
Guest introductions and George Connolly, CEO OneLedger shared his vision about this partnership

Questions from the Telegram chat

https://t.me/oneledger

Live questions
You can read it here: https://t.me/oneledger/480161 or read the short RECAP in text mode below. Please note, that questions have not been redacted.
George Connolly: Hello Ledgerians - Welcome to the AMA with TraceX
George Connolly: TraceX team - please introduce yourself to the community!
Brighu Bhattrahalli: Hello George and members in the group. Very excited to be here! My name is Brighu, Head of International Business at TraceX Technologies. I lead our efforts at TraceX to expand globally. We are a Food and Agri Supply chain Traceability platform that uses a private permissioned Blockchain to help Agri businesses achieve their Sustainability and Carbon accounting goal. We are a B2B Enterprise solutions platform.
Manu Bharadwaj: Hi Everyone, This is Manu Bharadwaj, Vice President - Growth and Strategy at TraceX! Excited to be here 🙂
George Connolly: Thank you both for taking the time to be with us today. Strategic partnerships are vital to the success of the blockchain and crypto industries - this is one such opportunity. What are the goals of TraceX and why use blockchain to achieve them?
Brighu Bhattrahalli: TraceX technologies came into existence when we recognized that most supply chains are extremely complex and that there is no trust and transparency between the stakeholders. This is more true in the Food and Agri industry.
George Connolly: How do you then apply blockchain to the agricultural industry?
Brighu Bhattrahalli: Blockchain technology was chosen primarily because we felt that the success of any program is when we can create a connected network of all stakeholders in any value chain.
Manu Bharadwaj: We work with the Agri and Food Supply chains and bring different stakeholders of the supply chain on one blockchain network to seamlessly exchange information from farm to fork ensuring a single source of truth. The idea is to build a connected and trusted food supply chain.
George Connolly: Would you care to expand on that?
Manu Bharadwaj: We help businesses in the following ways:
Reduce food wastage

Avoid Product recalls

Improve trust and transparency for the end consumers

Help in scope 3 carbon accounting

Measure sustainable outcomes
George Connolly: This is exactly what the world requires - especially now!!!! What is your plan to leverage OneLedger's blockchain technology?
Brighu Bhattrahalli: We will need to split this into two phases, the initial challenge is to get validated data coming from multiple sources and the TraceX platform looks at granular information to baseline. We can then use this data to engage the Oneledger BC platform to bring in more entities and spread the net wide.
George Connolly: Fantastic. What are the measurable outcomes of the TraceX platform?
Manu Bharadwaj: Basically we want to be the one-stop solution for the company's net-zero goals:
1. Measure: Get the scope 3 emission data
2. Reduce: Measure the impact of the abatement initiatives like Regen Ag, AWD and Agroforestry
3. Offset: DMRV platform to provide credibility to the carbon credits
We integrate with the GIS and IOT data for the monitoring and verification of the data
George Connolly: Thank you - now to questions from the Community.
Pre-recorded Community Questions
Community question 1: How many clients does TraceX have and is there any profit right now from TraceX side? If yes, what is the profit or earning amount of TraceX in the last 1 year?
Brighu Bhattrahalli: We have over 50 paying customers worldwide in the last couple of years across both Plant and Animal value chains. We have been lucky to retain all of them as we have looked at use cases to solve bigger problems that affect the food industry.
Community question 2: My question is what is the roadmap of this partnership? We all want to see the fruits of this partnership and I think we need to know when the first fruits will be ready.
Brighu Bhattrahalli: We have already signed a partnership agreement and are in the advanced level of engagement with ministries and private companies in the region. The value of the platform has been widely acknowledged and we are close to starting discovery and implementation.
Community question 3: When community will start to see and enjoy the light and product from this partnership?
Brighu Bhattrahalli: The platform is Live and implemented in multiple countries and with One Ledger being our key partner in the region, we think its not too far.
LIVE Community Questions
Community question 4: Are you a global project or a local project? At present, which market are you focused on, or is it focused on building and growing to gain customers, users, and partners?
Manu Bharadwaj: We are a global tech platform. We are in India, Europe, Mexico, USA, and Africa! Since our tech is location and language-agnostic.
Community question 5: Can you give an overview of your Tokenomics and the UTILITY of Token?
George Connolly: Any utility will be with OLT.
Manu Bharadwaj: Currently we are tokenizing any assets. We work with managed supply chains and the data is with the Enterprise/ Client signing up
Community question 6: Is the platform atm using what type of blockchain? and will it use Oneledger as the main backplane or as a bridge for other connections?
Manu Bharadwaj: Hyperledger Fabric :Private permissioned
Community question 7:What is your top 3 things for priorities in 2023? Could you share some plans for the upcoming year?What is your top 3 things for priorities in 2023? Could you share some plans for the upcoming year?
Brighu Bhattrahalli: 1. We are looking at working on more use cases in the carbon and sustainability area for the food industry
2. We would like to be in more countries going forward
3. Integrate with more applications so that there is a single source of truth
Community question 7: Can you give some examples of utility?
Manu Bharadwaj: We are working with OLAM in their Basmati Rice Value Chain tracing the rice form seed to bag. So the data asssociated with their supply chain is owned and managed by OLAM
Community question 8: When can we expect transactions on the chain from TraceX?
George Connolly: When we get new clients onboarded, the selling process has begun...
Manu Bharadwaj: Transactions are happening at the node level. It is just restricted to the supply chain participants.
Community question 9: You mentioned the US market to grow together, whose contacts have created the opportunities, TraceX or OLT?
George Connolly: Collaborative - both entities will use its contacts and staff to drive this
Brighu Bhattrahalli: TraceX and OLT are approaching the market together as its important to have technology backed by local presence. With OLT, we saw a very clear partnership due to its regional reach and maturity of BC platform
Manu Bharadwaj: Thank you, everyone, for your insightful questions, we are humbled.
Brighu Bhattrahalli: Thank you, everyone, Some brilliant questions! We had fun!!
George Connolly: Thank you all for your participation and thank you to TraceX
.
Read more about this partnership in the press-release: https://blog.oneledger.io/oneledger-announces-partnership-with-tracex