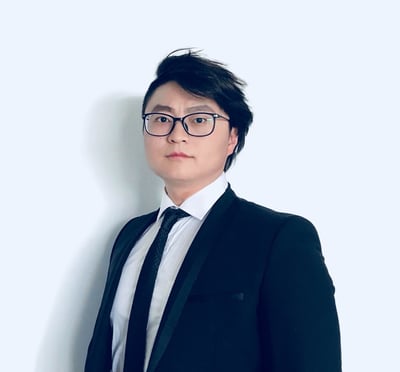 The OneLedger team has added one more member to strengthen the Development Team. As the Mainnet launch date moves closer, it is important for us to build a strong team and get everyone to speed as the months pass by.
Freddy Li will be taking on the role of Software Developer at OneLedger. Freddy is a blockchain enthusiast with a passion for learning new technologies. He holds a Master's in Software Engineering degree from one of Canada's most prestigious universities, University of Waterloo. Through his early days in university, he has been experimenting with blockchain technologies. He has over seven years of experience of collaborating in the software engineering space. In the past, Freddy has worked for Blackberry within their security systems development team. He also worked as a Blockchain Developer at SkyQuark Ltd. where he designed the Crowdsourcing Blockchain Modular backend system for implementing the advantages of fintech which enabled every participant to get rid of the traditional paper contracts. These blockchain experiences have convinced Freddy to pay attention to blockchain technologies because he believes that the traditional software industry will be overturned by it eventually. This is the reason Freddy decided to join OneLedger, as he believes that OneLedger is the future of cross-chain tech leader in this industry.
"As a blockchain developer, I'm aware that there are limitations for every main-chain at present, especially because the transactions can only take place on one particular chain. One of the solutions to push blockchain tech to the next level is the cross-chain capability, which OneLedger has been working on achieving. Personally, I'm interested in blockchain and I also want to contribute to the OneLedger cross-chain protocol and that is the main reason I joined." Said Freddy.
Freddy will be running operations on the OneLedger protocol. He will be focussing on the latest blockchain technologies and contributing towards OneLedger's suite of products.
When asked about interoperability, Freddy responded, "Interoperability is the future and in fact, it's already everywhere in software. Different software components focus on different aspects, but they also need to share data in order to build a better ecosystem or operating environment. It is not only important for sharing the data, but also connecting functionalities to make even smaller components or modules which are easy to maintain and scale. Using this technology, OneLedger could even be used as the core of many application-level products such as education, communication, supply-chain and anti-theft."
We are excited to have Freddy onboard and are confident that his passion for blockchain will help take OneLedger to the next level.